Ethereum hasn't been performing well against Bitcoin throughout the past few days and weeks, with this trend simply marking an extension of that seen throughout the past couple of years.
The amount of Ethereum being held within exchanges has rocketed to all-time highs as of late, even seeing tremendous growth in the time following the mid-March meltdown that sent it into the sub-$100 region.
As the second-largest cryptocurrency by market cap quickly approaches being in a bear market against its BTC trading pair for 850 days, analysts are now noting this one set of on-chain data seems to suggest that it could see further weakness in the weeks ahead.
Ethereum showing signs of weakness as the balance of ETH on exchanges rockets
Throughout the past couple of months, Bitcoin investors have been moving their cryptocurrency away from exchanges at an unprecedented rate.
This seems to be emblematic of these investors turning towards a long-term investment approach when it comes to their BTC.
The same trend is not seen while looking towards Ethereum, however, as the balance of ETH on exchanges is currently around its all-time highs, with investors adding another 132,000 ETH to their "hot wallets" in the time following its March 12th selloff.
One respected data-focused analyst on Twitter spoke about this in a recent tweet, offering a chart showing the sheer growth that this metric has seen in recent times.
Ceteris Paribus said:
"ETH balances are basically at all-time highs, and are up 132k ETH (~26M) since Black Thursday."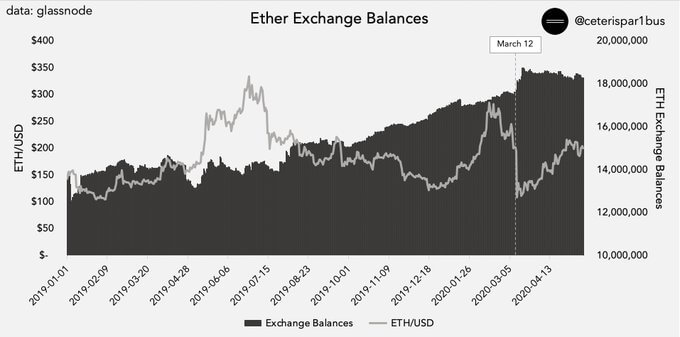 During the same time period, the balance of Bitcoin on exchanges has declined by $3 billion, with it now seeing the lowest on-exchange balance seen since one year ago. This exodus from exchanges was sparked by the selloff to $3,800 seen on "Black Thursday."
Here's what this could mean for ETH going forward
Because investors are increasingly moving their Ethereum holdings to exchanges – presumably removing them from either collateralized DeFi loans or cold storage wallets – it is likely that they are preparing to sell or trade their holdings.
It is possible that its severe underperformance of Bitcoin in recent times is leading investors to grow increasingly keen on converting their ETH to a higher-performing digital asset like BTC.
This trend could also make Ethereum prone to seeing large bouts of volatility, as investors may be more apt to trade their tokens while they are sitting on exchanges.
If this trend doesn't reverse anytime soon, it could be a grave sign for the cryptocurrency's near-term price action.
The post Ethereum exchange balance rockets to all-time highs; spelling trouble for its strength appeared first on CryptoSlate.