Cardano (ADA) has been flashing signs of growing strength throughout the past several days and weeks, with the altcoin rapidly beginning to incur some notable momentum.
Despite being able to post a 13 percent climb throughout the past week, social data indicates that investors haven't been taking too much notice of the altcoin. This may be the result of a shifting focus away from smaller tokens and towards Bitcoin.
From a macro perspective, it is important to note that ADA still has some important factors counting against it, including a high concentration of tokens in the hands of so-called "whales" who may have a large influence over its price action.
Cardano rallied 13% this week, but social activity points to disinterest amongst investors
At the time of writing, Cardano is trading up over five percent at its current price of $0.054, marking a notable climb from daily lows of $0.051 that was set just prior to its latest upswing.
This marks an extension of the momentum that ADA has been facing throughout the past several days and weeks, as it is currently trading up nearly 13 percent higher than where it was just seven days ago.
Over a one-month period, it is currently up 60 percent, marking a significant outperformance of many other major altcoins.
This growth has also come about during a time of significant instability amongst altcoins, as many of them have been struggling to match the momentum seen by Bitcoin.
Cardano's recent uptrend seems to have flown beneath the radar, as social data from analytics platform Santiment indicates that the cryptocurrency has not drawn much attention from investors on social media platforms.
"ADA is quietly creeping up as a hot altcoin as of late. It has moved +5.4% in the past 24 hours, and +12.8% in the past week. In spite of this, Cardano's mentions have remained low…"
Data from analytics visualization platform IntoTheBlock seems to validate this notion, as it shows that the crypto has seen a divergence between investor sentiment on Twitter and its price.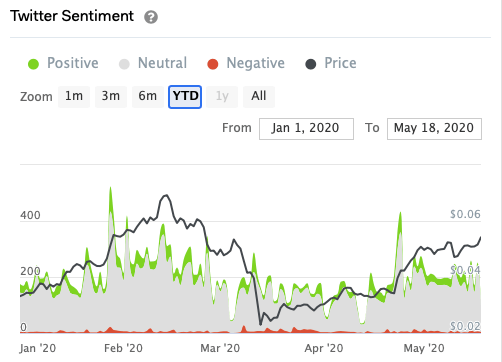 The fundamental strength of ADA remains questionable due to high "whale concentration"
One factor to be aware of that could play a role in Cardano's future growth is the high concentration of tokens within the hands of a select few investors.
IntoTheBlock's data visualization tool reveals this, showing that eight entities hold over 31 percent of all of ADA's circulating supply. These wallets are all considered to be "low activity addressees" – meaning that they have engaged in less than 300 transactions.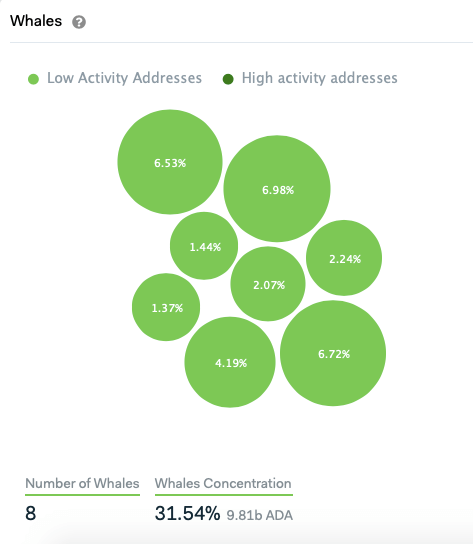 This is in stark contrast to Bitcoin's 1.39 percent whale concentration and could spark concerns regarding the token's decentralization.
The post Cardano (ADA) is caught within a firm uptrend, but sentiment data shows investors don't seem to have taken notice appeared first on CryptoSlate.