While many Bitcoin investors want the value of the U.S. dollar (USD) to crash more than anything in the world, right now, this is not the case. In fact, analysts say that the safe-haven dollar is poised to strengthen as the ongoing recession continues to ravage global markets.
On its own, this may seem bearish for Bitcoin, other cryptocurrencies, and gold. But according to top macro analysts, a rapidly-increasing USD price could present one of BTC's biggest opportunities yet.
The U.S. dollar is strengthening, and that's not a good thing
In March, the U.S. Dollar Currency Index (DXY) rapidly spiked as high as 103, more than 45 percent higher than the Great Recession of 2008 lows of 70. It was a move caused by a rapid increase in demand for dollars spurred by the macroeconomic situation.
The demand crunch for dollars got to a point where the Federal Reserve had to launch special facilities for foreign central banks to increase market liquidity in a bid to avoid a melt-up in the value of USD.
A good portion of March's DXY rally has retraced because the financial markets have started to return to some form of normalcy, but analysts currently expect the dollar to continue to gain strength against the euro, yen, yuan, and other fiat currencies.
Raoul Pal — a former Goldman Sachs executive and hedge fund manager — remarked in an extensive Twitter thread that USD's relative value against other currencies is poised to explode upward:
"We are in a viscous doom loop where slowing growth causes the dollar to rise, which causes slower growth, which causes the dollar to rise, as all borrowers play musical chairs to get access to the dollar to service debts."
There's also the "Dollar Milkshake" theory by Brent Johnson, CEO of Santiago Capital, which suggests that a combination of "higher relative interest rates, the deepest capital markets, tax policy, regulatory policy, America's payment system, and the US military" stacks the deck in favor of dramatic growth in the dollar.
But what comes after that? What comes after the dollar, as Pal puts it, becomes a "wrecking ball"?
That's where Bitcoin comes in
It's a common sentiment that a strong U.S. dollar hurts alternative investments like gold and Bitcoin, but according to Preston Pysh, a prominent financial analyst and podcaster, this trend could send the cryptocurrency flying.
In a world where there is a rapidly-increasing USD, there are only a few broad scenarios that can play out, yet each one could end up benefiting Bitcoin in their own way.
Inflating out of the crisis: The most obvious solution to this crisis is for the governments and central banks to print their way out of a dollar crisis. This would mean that the U.S. Federal Reserve would likely need to do everything in its power to debase the dollar through monetary policy levers, whether that's through quantitative easing or negative interest rates. Bitcoin obviously stands to benefit from such a trend as it is probably scarce.
Accepting deflation: One such way this crisis can be 'solved' is by the U.S. accepting a rising dollar. While unlikely as this would likely cause many corporations, individuals, and governments to go bankrupt, Bitcoin could benefit as society is fundamentally disrupted as institutions collapse due to deflation.
A new system: According to Pysh, there's a good chance that due to a booming dollar, the world will begin to transition naturally towards a new monetary standard. He proposed that the standard that has the highest probability of succeeding is Bitcoin, "simply because it's the option none of the governments want, but it's also the solution they can't easily stop, and it also poses a huge benefit for the first countries that would adopt it."
With this dynamic in mind, Pysh asserted that Bitcoin is one of the only assets he wants to invest in at the moment, shunning bonds and "most stocks," before adding that commodities are likely to be extremely volatile as the world grapples with the potential for deflation and for high inflation — or even a mix of both.
Where could BItcoin's price reach in the wake of this dollar crisis?
While Pysh doesn't have an exact prediction, meaning a specific date and specific price, he expects the ongoing macro turmoil and the halving to push Bitcoin above six digits.
The analyst said in a recent podcast interview with Nathan Latka:
"Do I think that it's just going to up to $100k and stop? Hell no. It's going to go straight through that number. It's probably going to go to $200,000 to $300,000."
The "$200,000 to $300,000" range Pysh defined lines up with the $288,000 for 2020-2024 price range that was defined by quantitative analyst PlanB in his latest stock to flow analysis.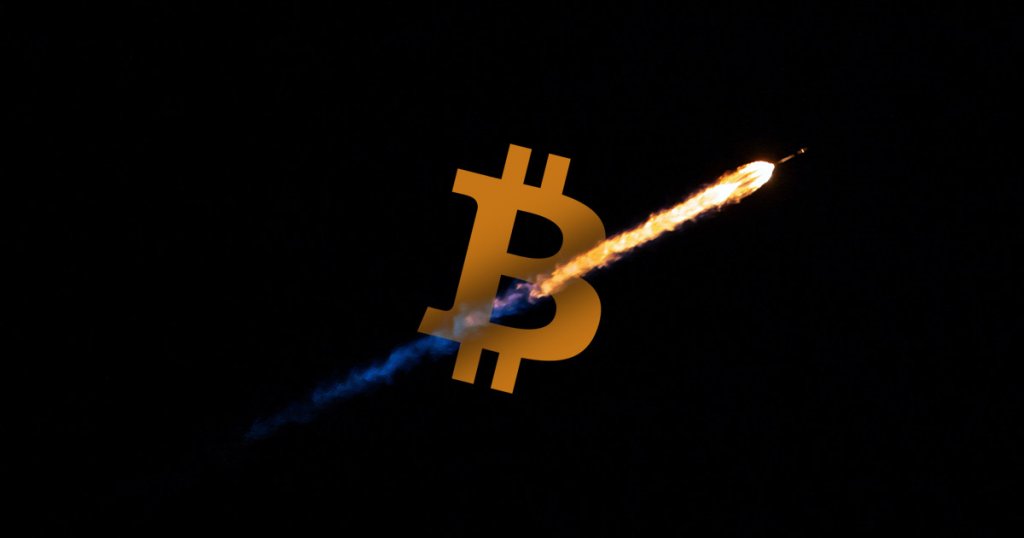 Raoul Pal, who also believes that the dollar is going to outperform as aforementioned, has been even more optimistic.
As reported by CryptoSlate previously, the macro researcher and investor wrote that he sees a scenario in which Bitcoin hits a market capitalization of $10 trillion, which corresponds with $500,000 per coin, in the next five years.
Pal thinks there is a risk "of the failure of our very system of money" or at least a collapse of the "current financial architecture" in the wake of this crisis, or even during it as described above.
The post Analyst: U.S. dollar may soon "break," giving Bitcoin potential to pass $100,000 appeared first on CryptoSlate.